On Saturday, April 22nd, 2023, the Santa Barbara City College Trombone Choir celebrated its 10th anniversary by hosting "Slide Show," comprised of a daytime master class and evening concert in SBCC's Fe Bland Forum, both of which featured special guest artist Dillon MacIntyre, principal trombonist for the Santa Barbara Symphony.

The dayime master class featured Mr. MacIntyre in the role of a clinician, working with the Santa Barbara Junior Trombone Choir, the "8th Position" trombone octet, the "SlideWays" trombone quartet, and the full SBCC Trombone Choir.  In addition, SBCC Trombone Choir members Henry Thielker, Emma Halseth, Michael Dolin, and Olivia Nava performed solo works and etudes for feedback and critique from Mr. MacIntyre.  Nick Rail Music of Santa Barbara was also in attendance with a booth that featured new trombones and accessories for those looking to upgrade their equipment.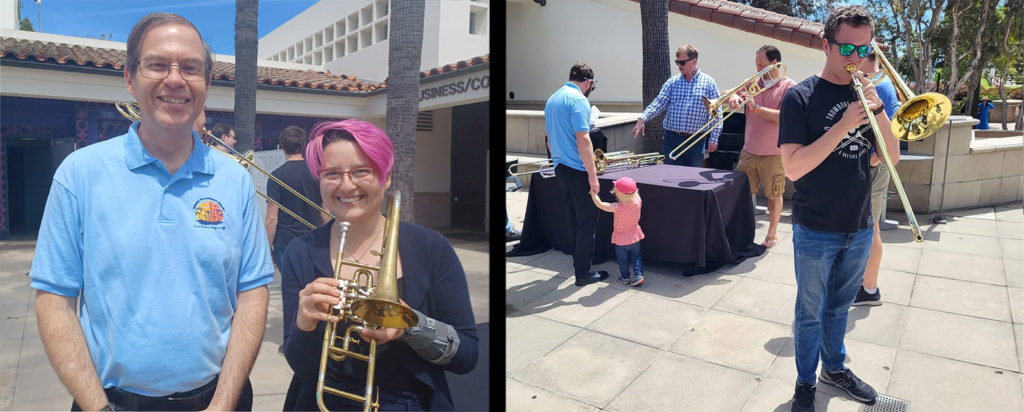 The same groups which participated in the daytime master class also performed that same evening in a concert which featured two brand new works for trombone ensemble by Cody Duke Anderson and Nick Mazuk, both of which were commissioned specifically for the "Slide Show" anniversary event.  Mr. MacIntyre was the featured soloist on James Kazik's "Variations on Napoli," as well as Thom Ritter George's "Aria and Dance." Other pieces performed that evening included Irvin Wagner's brilliant arrangement of "Send in the Clowns" and Ralph Sauer's wonderful setting of Haydn's "Achieved is the Glorious Work" from "The Creation."  And the SB Junior Trombone Choir performed two original compositions written by SBCC Applied Music instructor Stephen Hughes, who is also the instrumental music teacher at La Colina Junior High School.*

The SBCC Trombone Choir is truly a unique ensemble, whose members come from as far as Thousand Oaks each Saturday morning to rehearse. It is proud to celebrate its first 10 years, and is always looking for new members to join its ranks. All ages and levels of ability are welcome! Please contact SBCC Music professor Eric Heidner (heidner@sbcc.edu) for more information.

= all minors pictured have had parent/guardian permission granted for photo publishing.